When babies are born their skin is at their most delicate and sensitive. A few days after being born, don't be alarmed if their skin starts peeling or flaking, this is just part of the process. However, during this stage it does make their skin delicate and vulnerable to harmful chemicals and other irritants.
Even as baby grows, skin still remains a very important factor that needs to be cared for appropriately. It is not unusual for babies to develop skin rashes or irritation such as eczema in the early years. This is completely normal, but there are many things you can do to protect their delicate skin and stop their skin from coming into contact with known irritants.
As we've touched on before, organic cotton is one of the best fabrics to dress baby in, because it's completely free from dyes and chemicals. It is cotton in its purest and softest form, so it gives your baby's skin breathing room to rest and regenerate.
At Bjarni, our commitment to sustainability goes skin deep, we think it's so important that what we dress and clothe our babies in is kind, gentle and good for our little ones skin.
Muslins Are A Must Have Baby Essential
If you ask any new mum what their ultimate baby essentials are you can guarantee that a muslin will be included every time. Why? A muslin offers so much versatility. It can be used as a breastfeeding cover to a make shift baby bib, a pram cover and a blanket. They're almost always a lightweight product too that can easily be transported. If you were desperate, it could even be used as a makeshift nappy for a couple of hours due to its absorbency. It really is the star product when it comes to baby essentials.
When we sourced our Bjarni muslins we knew they had to be offering a lot more than just the standard square shaped muslin. That's why you'll find that all of our muslins are;
Made from 100% organic cotton
6 layers
Lightweight
They're large – at 110cm x 110cm they can pretty much do everything you want to with them!
Made from organic cotton, this makes the muslins absorbent and breathable
Machine washable on 30°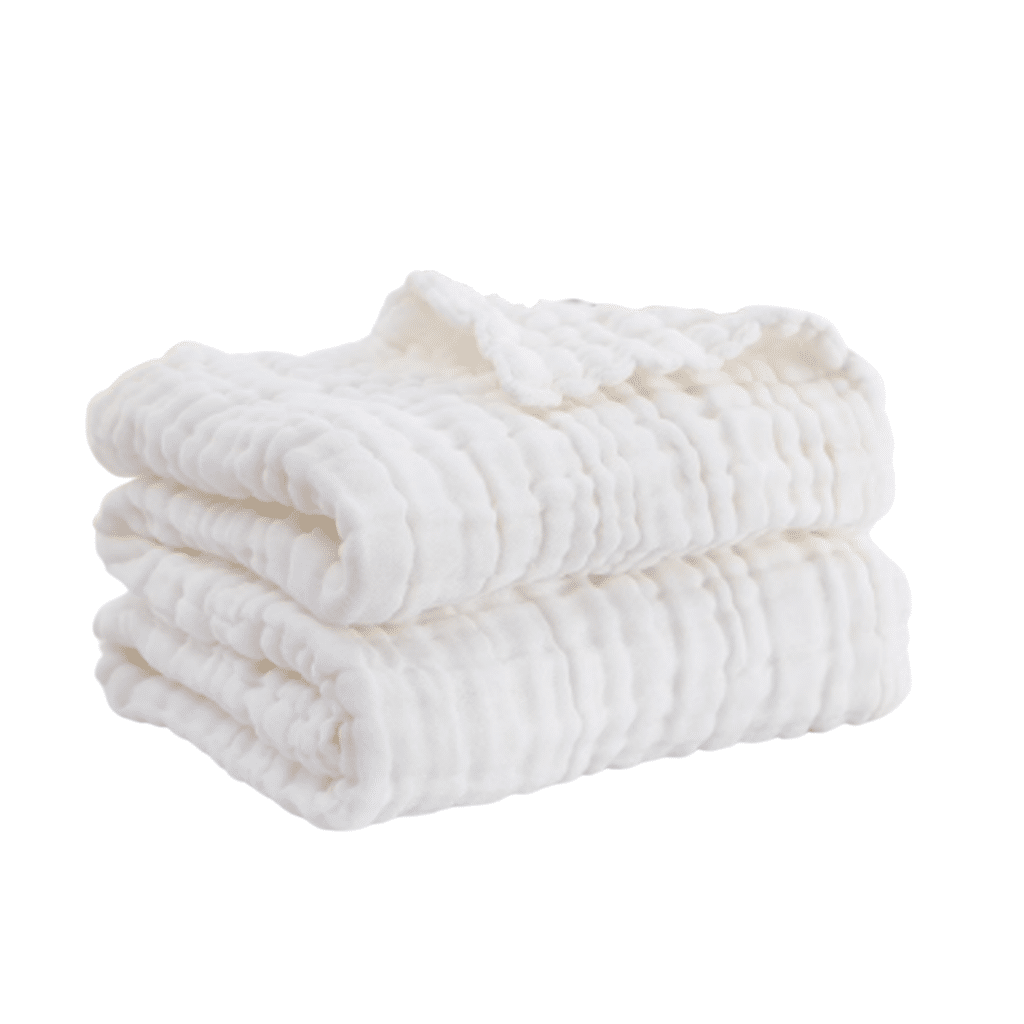 Putting Our Bjarni Muslin To The Test
Pictures alone don't tell the whole story. This is why we created a video for Instagram to show why our muslins stand the test for babies skin.
Did you know that many towels and garments can leave shedding on babies wet skin? This in turn can then lead to skin irritation if the towel has a) not dried their skin properly, leaving damp residue or b) shed parts of the fabric such as fluff onto their skin.
We put our muslin to the test on a recently boiled egg straight from the pan. With the egg representing babies skin, you can see that after rubbing the muslin onto the egg to dry it that no residue, or shedding was left behind on the egg. Soft to babies skin without shedding.
The next test was to demonstrate just how absorbent our muslin is. Due to the size of the muslin, it can also be used as a towel as required, and for mopping up spills, baby sick etc.
We placed our muslin onto a piece of cardboard and poured a jug of water straight onto the muslin. By peeling the towel back you can see that the muslin absorbed 100% of the water, with no residue or sign of dampness or fluid on the cardboard.
The result is that our Bjarni muslins are kind, soft and gentle to babies skin. Offering maximum absorbency whilst being a breathable material that is lightweight and keeps baby warm without irritation.
Use your Bjarni muslin your way. It offers so much versatility that it's the number one essential for any parent to be!
Keep an eye on our Instagram for more on our #BjarniJourney.