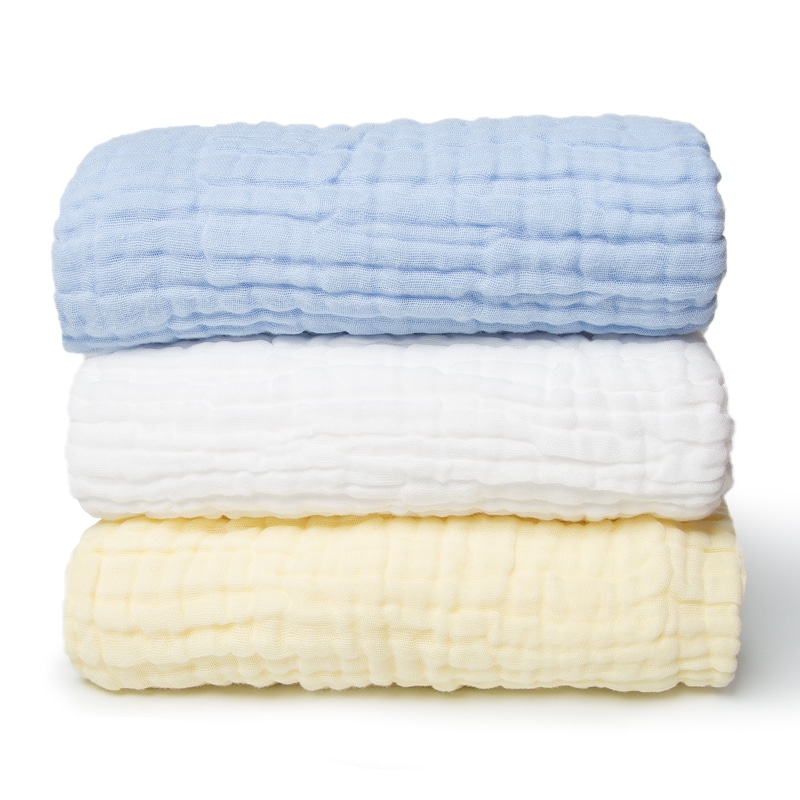 If there's one thing you can't have enough of as parent it's a muslin. Whether it's mopping up those spills, or acting as a comfort blanket, it's definitely that one baby item that can do it all. And definitely one you can't be without!
Whether you're a parent to be or already have plenty of muslins and aren't sure of everything they can be used for, you'll want to keep reading. Here are just 15 different ways you can use a baby muslin.
1.Breastfeeding Cover
Thanks to the breathable fabric and size of our muslin towel, it makes a perfect breastfeeding cover. It creates a personal and private breastfeeding space, where and whenever required. Whilst the fabric is breathable to keep you and baby cool.
2. Comfort Blanket
Thanks to its soft and cuddly fabric, a muslin makes for a perfect comfort blanket for baby.
3. Burp Cloth
Hang the muslin over your shoulder, and hold baby over your shoulder to burp them. This creates a comfortable, soft base for baby. If there's any spit ups or spills, they're easy to wipe off too.
4. Bed Sheet
Due to the large size of our muslin, it makes for a perfect makeshift bed sheet. Ideal for use in the warmer months, providing a soft and breathable base for baby to lie on.
5. Play Mat/Changing mat
Whether you're at home or on the go, our muslin makes for a perfect travel changing mat or play mat. It's durable, soft and super light to carry. Simply lay it out flat and use for whatever purpose you need it for.
6. Build A Den
For those rainy days at home and you're not sure how to occupy your little one, build a den! A muslin can provide perfect shelter by draping it over a couple of chairs!
7. Pram Cover
Draping the muslin over your pram can act as a protective pram cover from the sun, cold and for privacy and safety if they're sleeping.
8. Sun Shield Car/Pram
Following on from the above, a muslin can be used a sun shield in the car or pram during the summer. Providing shade and protection from the sun.
9. Swaddle
Swaddling baby is a traditional practice of wrapping them up gently in a breathable blanket or muslin to recreate that feeling of being in their mum's womb. The idea is that this comforting feeling helps them to sleep better, whilst feeling more comfortable. Using our muslin as a swaddle will keep them comfortable and warm.
10. Cape For Fun
You can have some fun with your muslins when baby is older too! Wrap them up and use it as a cape on them, a fun idea for play time!
11. Nappy In Emergencies
You never know when a muslin can come in handy, this is why you can never have enough as a parent. For emergencies when your nappies have ran out or your baby has had an accident, a muslin can be used in its place. The absorbency of a muslin can give you up to two to two and a half hours of proper protection.
12. Mopping Spills & Mess
A muslin is the perfect item to have to hand for wiping away any snot, baby messes and spills.
13. Makeshift Baby Sling
It's easy to craft your own baby sling by using a muslin wrap. Due to their breathable and durable fabric, they work perfectly as a baby sling. Take a look on youtube for step by step instructions to create your own.
14. Bath Towel
For a lighter, durable and absorbent bath towel for baby you can use a muslin. Made from organic cotton, it makes them soft, comfortable and breathable whilst absorbing sweat.
15. A Teething Toy
For those testing times when babies gums need soothing, a muslin can act as a great teething toy, for chewing or sucking on. Even better, dampen a folded muslin cloth with some water, place it in a sandwich bag in the fridge or freezer for a few minutes: super soothing for irritated little gums.
Our Bjarni Muslin towel is made from 100% organic cotton, with 6 layers of gauze cotton material. Offering superior softness, no chemical dying or chemical processing has been used in the production of our products. Always sustainable, snuggly and kind to babies skin.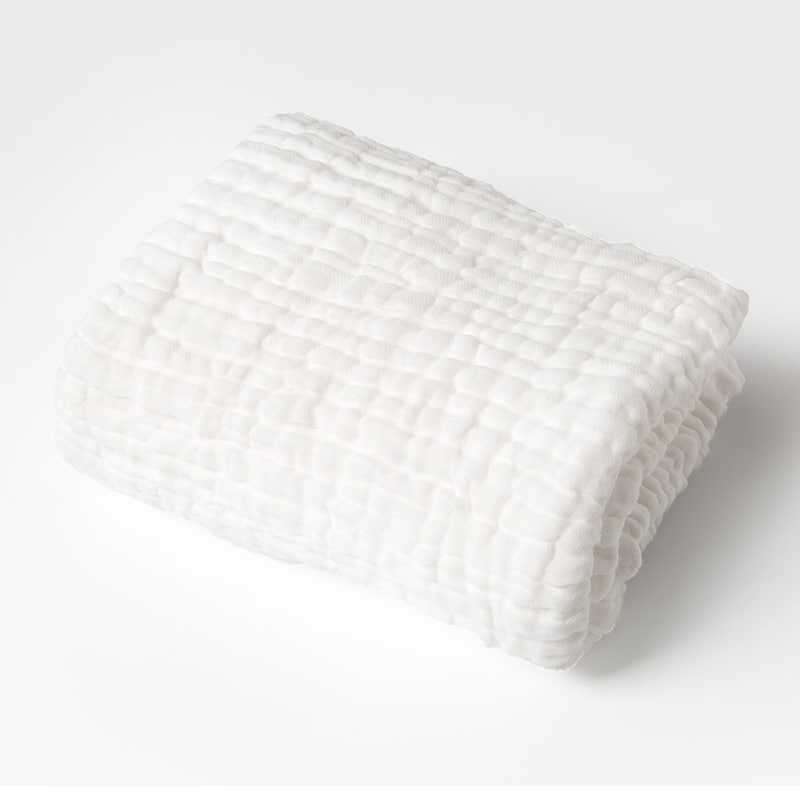 Keep an eye on our Instagram for more on our #BjarniJourney.