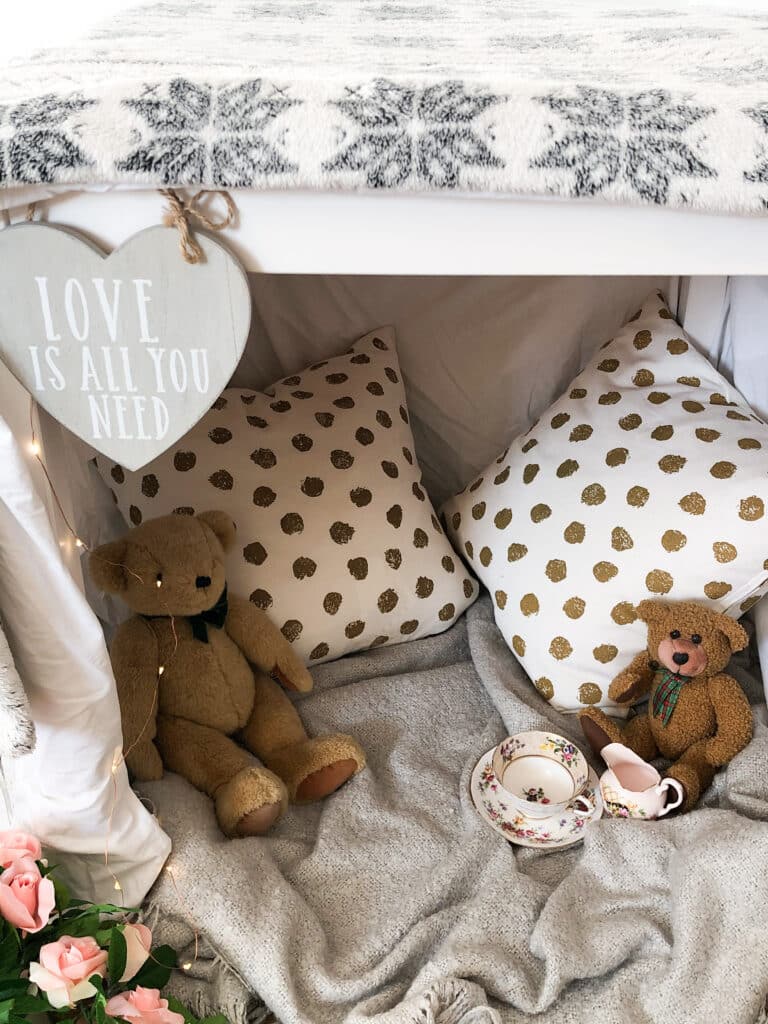 A winter lockdown means even more time spent inside because of those rainy and cold days. For those afternoons that you just can't think how to entertain your little ones, look no further.. Doesn't an indoor den instantly spark feelings of warmth, happiness and safety, even as an adult? An indoor den was always the ultimate play afternoon that you never wanted to leave.
An indoor den/space space or fort is still very much a child's dream. The best bit? It costs £0.00 to construct! You'll definitely have these items to hand and you don't need an expensive indoor teepee to create one.
We promise your little ones will love this idea, although, you might struggle getting them to leave it!
What you will need:
Bed sheets
Blankets/throws
Cushions
Fairy lights
Bears
Any other play essentials!
How to:
To start building the indoor den you need to work out how you're going to construct it. If you have a small table this would be the perfect place to create a den. Alternatively you could construct a den between 2 different chairs or anything that the bed sheets could drape from.
Once you've decided on your area, start draping the bed sheets/blankets over the top to create an enclosure. For a cosy den feeling, you want to make sure the backs and sides are completely closed off.
Next you want to create some soft, cosy flooring to the den. Use blankets and throws to create a carpet.
Add in any cushions or other cosy essentials you think your little ones will love.
Bring in the fairy lights, we added ours by draping them around the table on the inside. You can even drape them over the entrance to the den.
Set the den up with their favourite bears and any other play essentials such as a cup and saucer for a bears tea party.
Finish the den by placing in any other essentials. We used a little sign on the front, a 'welcome' sign or 'home sweet home' sign would be a very cute finishing touch.
Voila, your indoor den for your little ones is ready! It's free, affordable and takes a few minutes to setup, it's a thumbs up from us!
Take a look at how we built this den over on our Instagram! Keep an eye on our Instagram for more on our #BjarniJourney.