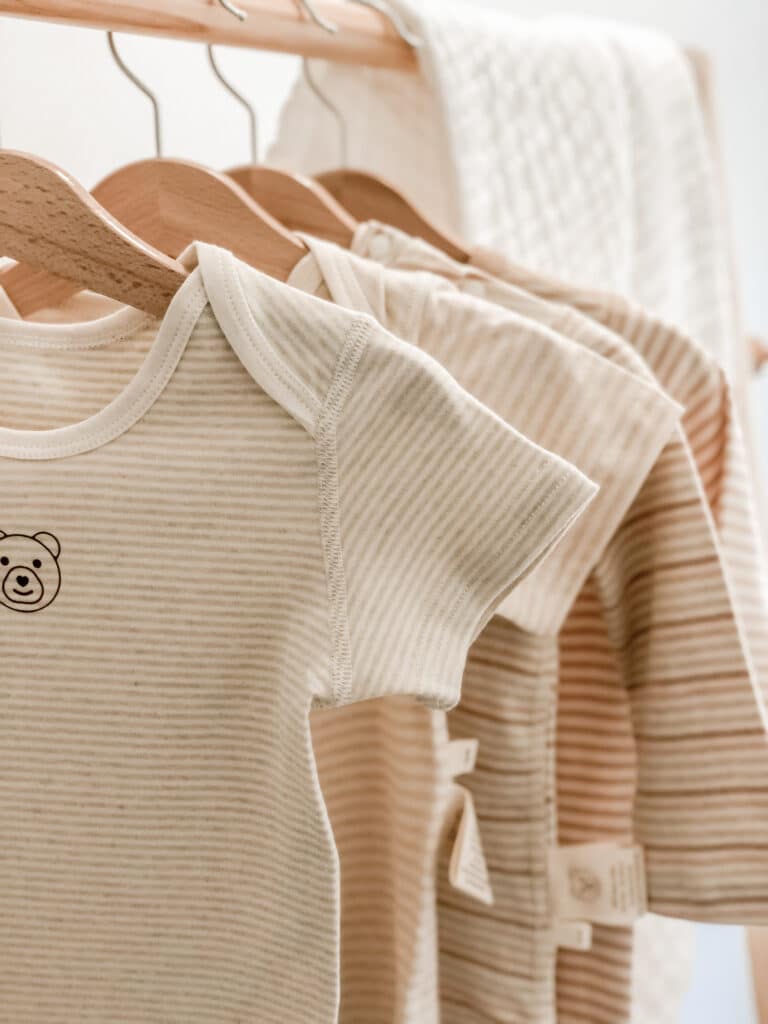 The baby bodysuit or baby grow is one of the staple essentials for a baby. They provide a great base layer in the winter to keep baby warm and cosy. Whilst they can be worn on their own in the summer to keep baby cool.
They offer so many benefits to both parent and baby, are so easy to dress baby with and they won't cost you a fortune. We explore just 9 of the benefits of baby bodysuits.
9 Benefits of Baby Bodysuits
1. An Extra Layer
Baby bodysuits provide an easy, extra layer for baby. They are perfect for layering on baby during the winter to keep all of their skin enclosed, and warm. An extra layer of clothing is incredibly important for young babies that are not yet moving about during the winter.
2. Organic Cotton Is Kind To Babies Skin
For a base layer you really want something that is kind and soft to babies gentle skin. Organic cotton bodysuits won't cause any irritation and whether it's the only layer or one of many, it ensures that the layer with skin contact keeps them comfortable all day.
3. Bodysuits Absorb Sweat
Bodysuits that are made from organic cotton and are breathable will absorb sweat. Not only does this keep baby comfortable throughout the day, it means that there is nothing to cause further irritation to babies skin.
4. Bodysuits Are More Comfortable Than Elasticated Bottoms
Bodysuits are fastened underneath with poppers, because of this it makes them far more comfortable for baby to wear than elasticated bottoms. This especially applies to babies who suffer from colic. Having that extra room to breathe, move and wriggle in a bodysuit offers superior comfort in comparison to elasticated bottoms.
5. Helps To Contain A Nappy
Bodysuits help to contain and secure a nappy easily. Plus, if there is any notorious leaks it avoids damaging the top layers of clothing so the bodysuit just needs to be replaced on baby.
6. So Much Variation
There is so much variation when it comes to baby bodysuits, long sleeves, short sleeves, sleeveless – no matter the season or the need, there is a bodysuit that will be perfect for everyday.
7. Easy For Nappy Changes
Especially for those accidents, bodysuits make nappy changes SO much easier. You don't have to pull it up over their head or remove the bottoms. Simply unbutton the bodysuit, nappy change and re-fasten. This is not only safer for nappy changes not having to brush past their head, but for hygienic reasons too.
Indeed, the baby bodysuit is a saving grace for those frequent nappy changes and for keeping baby cool and comfortable!