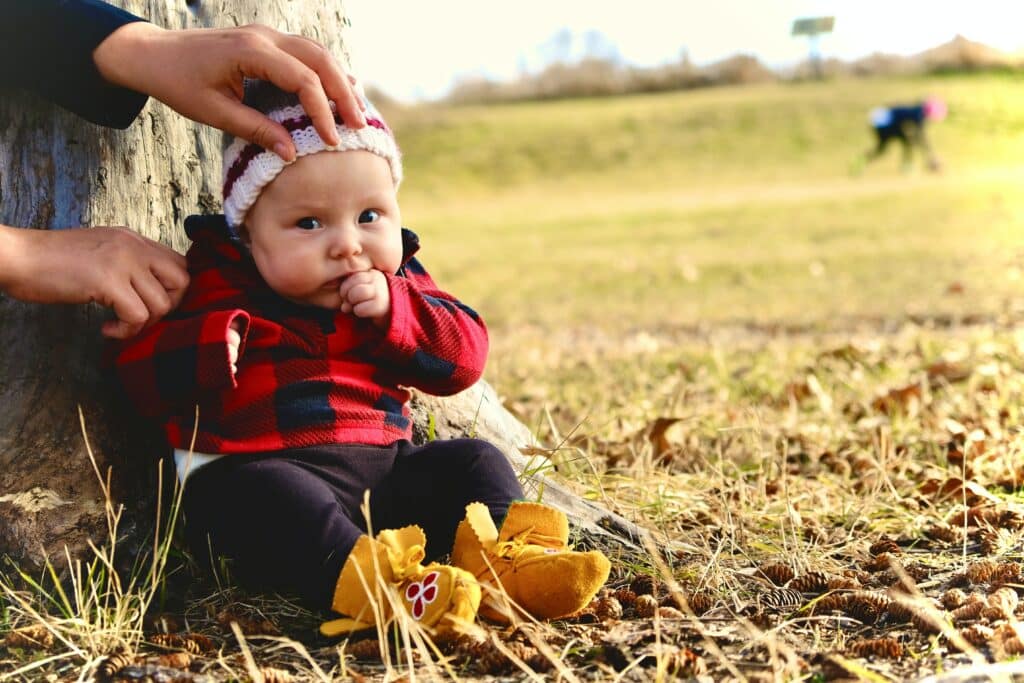 Autumn can initially feel like a challenging time with a new baby, the darker mornings and evenings. The colder days, and the impending feeling that you just want to shut yourself in from it all. But it's time to look at Autumn as a fresh start, an exciting season. The crunchy leaves. The autumnal colours. Those fresh, crisp mornings. The wildlife. Hot chocolates. Cosy cafe visits. Cute autumnal baby clothing. New experiences as a family. Cosy nights in.
There really is plenty to look forward to in the Autumn and with so many changes happening in the natural world at this time as it prepares for winter, it is the optimum time for sensory activities for baby.
We take a look at some of the fun and exciting Autumn sensory activities that your baby will just love!
Autumn Sensory Activities For Early Years
Autumn Leaves
Those beautiful autumnal leaves are one of natures finest playgrounds, they provide so many sensory and craft activities from baby to beyond. A simple sensory game can be with collating a handful of crunchy leaves in different colours. The bright colours will engage baby, whilst being able to touch and feel the leaves will give them an all new experience of the textures and the crisp sound as their fingers fall over the leaves.
Pumpkin Carving
Okay, so we don't mean the actual carving of the pumpkin! We're talking about the juicy insides of those pumpkins once they have been cut open. The insides of the pumpkin are usually disposed of but again, the innards of the pumpkin make for one of the most wonderful sensory activities for baby. Touch and feel is at the cornerstone of babies senses. It's how they learn and get a feel for the world around them. Once you have carved the pumpkin, scoop out the inside and put them into a bowl. Direct babies hands into the bowl to feel it! What we love about this activity is that the innards of pumpkins provide so many different sensations. It's wet, squelchy, soft, slimy – it's all of the good stuff that will pique your babies curiosity as they start feeling around.
Autumn Sensory Bin
Create a really great sensory hour for baby with an Autumn sensory bin! Grab a basket, box or small bucket and fill it with a mixture of different objects that have different textures, feelings, create different sounds. It will provide your baby with an incredible amount of sensory time to aid development. Fill it up with just a few things such as;
Crunchy autumnal leaves
Pumpkin innards
A foil emergency blanket (trust us on this one!)
Rice
A munchkin pumpkin
Marshmallows – so soft, don't let them try them though!
Acorns
Pine cones
Pom poms
Autumn Bubble Foam
You'll need to direct baby carefully for this one, but it can be a lot of fun! Get a small bowl and add some bubbles, you can get this from the excess on top of using washing up liquid in water. You want it bubbly, not lots of excess water. Once the bowl is full of bubbles, simply add in some leaves. Baby will love feeling their way through the bubbles and grabbing those leaves when they find them!
Just a few ways that you can upgrade babies usual sensory activities with these fun, autumnal activities! We'd love to hear from you if you have any other favourites for this season.