Babies grow so fast that capturing those magical, newborn moments will help to freeze that moment in time, allowing you to cherish and look back on those photos for years to come. Newborn photography has grown in popularity year on year. When they're very young, they're a much better age and temperament to use in scenes for photography. Often, many newborn shoots include the baby asleep, but put into a pose for a cute capture.
Whether you're seeking a newborn photographer or looking to create your own in a set at home, we explore some newborn photography props that will help you to create a truly gorgeous and magical backdrop for those photos.
1.Muslins
Muslins are a key prop for newborn photography as they can add warmth and comfort to the shot for the baby. Our white organic muslin has become a popular purchase for newborn photographers as it provides a gorgeous, blank and neutral canvas. Depending on the style of shoot, the muslin can lend itself to covering certain parts or a nappy to evoke a clean, minimal shot. Muslins and swaddle wraps can add pops of colours to the set too, whilst adding depth and texture to the images.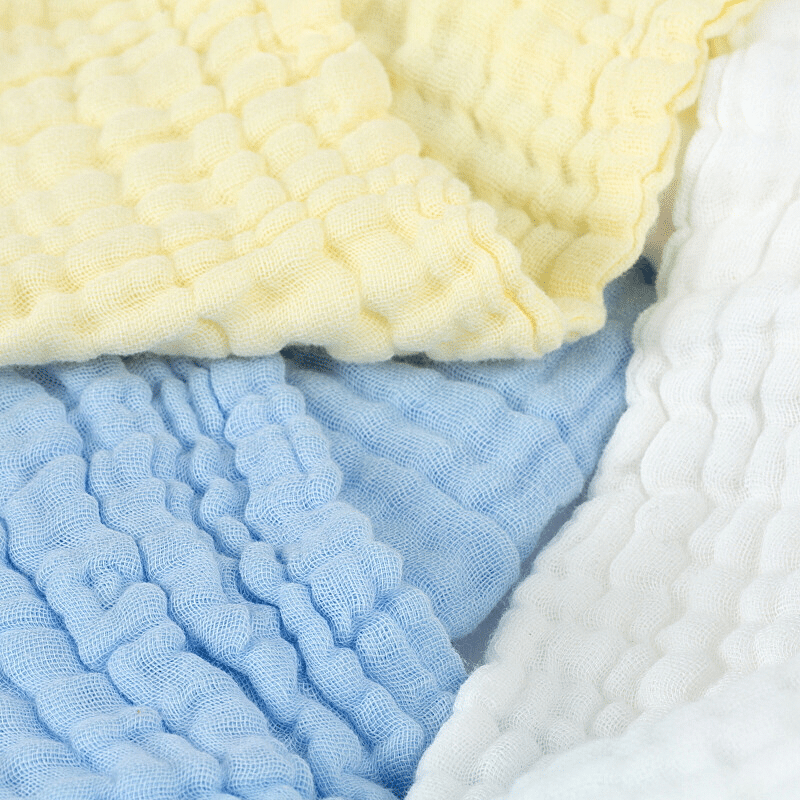 2. Baskets & Bowls
Baskets and bowls have become a pivotal role in setting up the shot for newborn photography. The basket can be used to easily contain baby, either on their back or stomach for adorable photo opportunities. It helps to give perspective on just how tiny a newborn baby is! Wicker baskets can easily be picked up from craft stores or online. They can be lined with muslins and furs to create warmth and texture for your little one.
3. Hanging Stork Sacks
Not only is incorporating a hanging stork sack an adorable way to hold your newborn, it plays into the old story of the stork carrying the babies in to their new parents. These are usually created by having the sack tied up whilst the parent holds it, whilst it rests on another object. With some photoshop wizardry, it can be inserted onto a twig or branch to look like it's hanging from a tree for an authentic look.
4. Movie Newborn Props
The newborns parents might be a film fanatic and it can be incredibly fun to incorporate subtle movie assets into the photos. From Harry Potter to Star Wars, you can customise the newborn props to fit in with your family.
5. Floral Wreaths
No matter when your baby is born, you can find so many gorgeous seasonal floral wreaths to fit in with the theme. Dried floral wreaths which incorporate pampas grass and other pops of colour provide a gorgeous addition to a photo for a neutral, instagrammable shot. They look great hung in a babies nursery when not in use too!
6. Furs
Fake furs and soft throws are another gorgeous addition to shots. They'll provide warmth for the newborn to lay on, can cover up the areas that need to be hidden from shot and can add a pop of colour to a neutral shot.
7. Teddies
Teddy bears are an adorable extra to a newborn shot. Get the newborn cuddled up with a teddy for the cutest, softest shot.
8. Stars & Moons
A gorgeous way to create a shot, is creating a scene with your newborn tucked up and adding some stars and moon props above their head as a flatlay. This could be done with so many other props such as the sun, hearts and the world.
9. Crowns
Bring your own little prince or princess to life by adding in a crown prop on their head. You could team this by adding in a royal robe or cape for a really magical and majestic shot.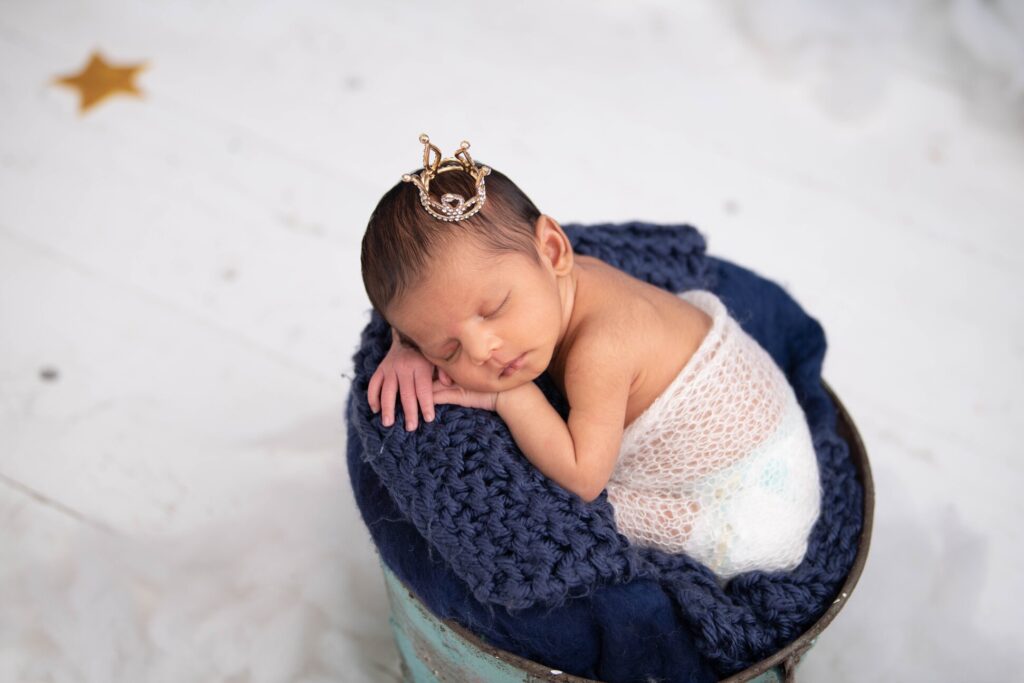 10. Christmas Props
Seasonal shoots offer so many prop ideas. If you've had a December baby, creating a Christmas setup is a gorgeous way to remember this precious time. The same could be done for Easter and Halloween with theme specific props.
11. Newborn Hats & Bonnets
Newborn hats and bonnets help to add pops of colour, warmth and texture to the shot. The cuter the better!
There are so many different setups and prop ideas for newborn photography, let your personality and family favourites lead the way in helping you decide what you want your newborn photography to look like. Be creative, and use this opportunity to help you remember those magical newborn moments forever!